Schedule 80 Stainless Steel Pipe, Schedule 80 Black Pipe, SS 304/316 Schedule 80 Pipe Dimension, Schedule 80S Pipe
SS 80 steel pipe is made by Bhawal Steel Agency, a steel company dedicated to producing high-quality grades at the best rates. We use proper testing procedures to pass along with all products to get non-defective pipes and tubes, which are then delivered to clients. We have different customization of the products based on sizes, thicknesses and shapes by taking care of the client's requirements.
This pipe and tube are made of SS 316 Schedule 80, which gives it the strength to handle high-pressure and high-temperature applications. It features a smooth interior for unfettered flow because it is seamless. The corrosion resistance of the 304 stainless steel pipe is excellent. Corrosion resistance is good in 316 stainless steel tubing. Schedule 80 pipe will have a thicker wall at a given nominal pipe size, a smaller internal diameter, and a heavier weight than Schedule 40 pipe. Swage nipples are another name for straight reducers. A close nipple is a fully threaded pipe that is threaded on both ends to the centre.
Our 316 stainless steel comes in a multitude of shapes, including bars, tubes, sheets, and plates, and is hot rolled and cold rolled. We can cut metal to your exact specs and custom-make it to your exact specifications. This steel pipe finds excessive applications in chemical industries, oil and gas industries, heat exchangers, power generation, petrochemical industries, and others.
Schedule 80 Stainless Steel Pipe Schedule Chart
Designation of Diameter
O/D
Nominal Wall Thickness
DIA
SCH.5S
SCH.5
SCH 10S
SCH.10
SCH.40S
SCH.40
(A)
(B)
Meter
MM
Wall
Thk
Weight Kg/Mtr
Wall
Thk
Weight Kg/Mtr
Wall
Thk
Weight Kg/Mtr
Wall
Thk
Weight Kg/Mtr
Wall
Thk
Weight Kg/Mtr
Wall
Thk
Weight Kg/Mtr
6
1/8
10.3
1
0.23
1.2
0.27
1.73
0.37
8
1/4
13.7
1.2
0.37
1.65
0.49
2.24
0.64
10
3/8
17.2
1.2
0.47
1.65
0.63
2.31
0.87
15
1/2
21.3
1.65
0.01
1.65
0.81
2.11
1.02
2.11
1.02
2.77
1.29
20
3/4
26.7
1.65
1.03
1.65
1.03
2.11
1.3
2.11
1.3
2.87
1.71
25
1
33.4
1.65
1.31
1.65
1.31
2.77
2.13
2.77
2.13
3.38
2.54
32
11/4
24.2
1.65
1.67
1.65
1.67
2.77
2.73
2.77
2.73
3.56
3.44
40
11/2
48.3
1.65
1.93
1.65
1.93
2.77
3.16
2.77
3.16
3.68
4.11
50
2
60.3
1.65
1.93
1.65
2.42
2.77
3.99
2.77
3.99
3.91
5.52
65
21/2
73
2.11
3.75
2.11
3.75
3.05
5.34
3.05
5.34
5.16
8.77
80
3
88.9
2.11
4.59
2.11
4.59
3.05
6.56
3.05
6.56
5.49
11.47
90
31/2
101.6
2.11
5.25
2.11
5.25
3.05
7.53
3.05
7.53
5.74
13.78
100
4
114.3
2.11
5.93
2.11
5.93
3.05
8.5
3.05
8.5
6.02
6.32
125
5
141.3
2.77
9.61
2.77
9.61
3.4
11.74
3.43
11.74
6.55
2210
150
6
168.3
2.77
11.47
2.77
11.47
3.4
14.04
3.43
14.04
7.11
28.69
200
8
219.1
2.77
15
2.77
15
3.76
20.77
3.76
20.27
8.18
43.2
250
10
273.1
3.4
22.95
3.4
22.95
4.19
28.2
4.19
28.2
9.27
61.22
300
12
323.9
3.96
31.72
4.19
33.6
4.57
36.54
4.57
36.54
9.53
75.01
10.31
80.94
350
14
355.6
3.96
34.86
4.78
41.99
6.35
55.53
9.53
82.58
11.13
96
400
16
406.4
4.19
42.2
4.78
48.07
6.35
63.61
9.53
94.7
12.7
125.2
450
18
457.2
4.19
47.46
4.78
54.15
6.35
71.69
9.53
106.83
14.27
158.27
500
2C
508
4.78
60.23
5.54
69.7
6.35
79.76
9.53
118.9
15.06
185.89
550
22
558.8
4.78
65.95
5.54
76.75
6.35
87.84
9.53
131.07
15.88
216.04
600
24
609.6
5.54
83.8
6.35
95.92
6.35
95.92
9.53
143.2
17.45
258.74
650
26
660.4
7.92
129.4
9.53
155.32
700
28
711.2
7.92
139.47
9.53
167.44
750
3C
762
6.35
120.15
7.92
149.55
7.92
149.55
9.53
179.56
800
32
812.8
7.92
159.62
9.53
191.69
17.48
348.11
850
34
863.6
7.92
169.64
9.53
203.74
17.48
370.22
900
36
914.4
7.92
179.77
9.53
215.93
19.05
427.09
Designation of Diameter
O/D
Nominal Wall Thickness
DIA
SCH 80 S
SCH 80
SCH 100
SCH 120
SCH. 140
SCH.160
SCH.XXS
(A)
(B)
Meter
MM
Wall
Thk
Weight Kg/Mtr
Wall
Thk
Weight Kg/Mtr
Wall
Thk
Weight Kg/Mtr
Wall
Thk
Weight Kg/Mtr
Wall
Thk
Weight Kg/Mtr
Wall
Thk
Weight Kg/Mtr
Wall
Thk
Weight Kg/Mtr
6
1/8
10.3
2.41
0.47
8
1/4
13.7
3.02
0.82
10
3/8
17.2
3.2
1.12
15
1/2
21.3
3.73
1.64
4.75
1.97
7.47
2.59
20
3/4
26.7
3.91
2.93
5.54
2.93
7.82
3.69
25
1
33.4
4.55
3.29
6.35
4.3
9.09
5.53
32
11/4
24.2
4.85
4.53
6.35
5.69
9.7
7.88
40
11/2
48.3
5.08
5.49
7.14
7.35
10.16
9.69
50
2
60.3
5.54
7.6
8.71
11.26
11.07
13.65
65
21/2
73
7.01
11.59
9.53
15.15
14.02
20.72
80
3
88.9
7.62
15.51
11.13
21.67
15.24
28.11
90
31/2
101.6
8.08
18.92
16.15
34.56
100
4
114.3
8.56
22.66
11.13
28.75
13.49
34.05
17.12
41.66
125
5
141.3
9.53
31.44
12.7
40.9
15.88
49.87
19.05
58.31
150
6
168.3
10.97
43.21
14.27
55.03
18.24
68.53
21.95
79.1
200
8
219.1
12.7
65.63
15.06
76.93
18.24
91.73
20.62
102.47
23.01
112.97
22.23
108
250
10
273.1
12.7
82.8
15.06
97.27
18.24
116.38
21.41
134.9
25.4
157.51
28.58
174.95
25.4
155.5
300
12
323.9
12.7
98.95
17.45
133.88
21.41
162.14
25.4
189.82
28.58
211.31
33.32
242.4
25.4
189.82
350
14
355.6
12.7
109.04
19.05
160.54
23.8
197.74
27.76
227.88
31.75
257.47
35.71
286.04
400
16
406.4
12.7
125.2
21.41
206.4
26.19
249.34
30.94
290.88
36.53
338.32
40.46
370.74
450
18
457.2
12.7
141.35
23.8
258.29
29.36
314.54
34.93
369.34
39.67
414.74
45.24
466.67
500
2C
508
12.7
157.51
26.19
315.97
32.54
387.41
38.1
448.3
44.45
515.94
49.99
573.31
550
22
558.8
12.7
173.66
28.57
379.7
34.92
457.83
41.27
535.17
47.62
609.3
53.97
682.57
600
24
609.6
12.7
189.82
30.94
448.3
38.89
555.76
46.02
649.44
52.37
730.72
59.51
819.7
650
26
660.4
12.7
205.97
(24.66D-t) t

1000

Wt/pam + formula

Weight Stainless Steel Pipe

OD (mm) - W.T. (mm) XW.T. (mm) X 0.02466 = Kg. per mtr.
700
28
711.2
12.7
222.13
750
3C
762
1270
238.28
800
32
812.8
12.7
254.44
850
34
863.6
12.7
270.5
900
36
914.4
12.7
286.75
Dimension Standard Schedule 80 seamless pipe
| Nominal size [inches] | Outside diameter [inches] | Outside diameter [mm] | Wall thickness [inches] | Wall thickness [mm] | Weight [lb/ft] | Weight [kg/m] |
| --- | --- | --- | --- | --- | --- | --- |
| 1/2 | 0.840 | 21.3 | 0.083 | 2.11 | 0.68 | 1.00 |
| 3/4 | 1.050 | 26.7 | 0.083 | 2.11 | 0.87 | 1.29 |
| 1 | 1.315 | 33.4 | 0.109 | 2.77 | 1.41 | 2.11 |
| 1 1/4 | 1.660 | 42.2 | 0.109 | 2.77 | 1.82 | 2.71 |
| 1 1/2 | 1.900 | 48.3 | 0.109 | 2.77 | 2.1 | 3.13 |
| 2 | 2.375 | 60.3 | 0.109 | 2.77 | 2.66 | 3.96 |
| 2 1/2 | 2.875 | 73.0 | 0.120 | 3.05 | 3.56 | 5.29 |
| 3 | 3.500 | 88.9 | 0.120 | 3.05 | 4.37 | 6.50 |
| 3 1/2 | 4.000 | 101.6 | 0.120 | 3.05 | 5.01 | 7.46 |
| 4 | 4.500 | 114.3 | 0.120 | 3.05 | 5.66 | 8.42 |
| 5 | 5.563 | 141.3 | 0.134 | 3.40 | 7.82 | 11.64 |
| 6 | 6.625 | 168.3 | 0.134 | 3.40 | 9.35 | 13.91 |
| 8 | 8.625 | 219.1 | 0.148 | 3.76 | 13.50 | 20.10 |
| 10 | 10.750 | 273.1 | 0.165 | 4.19 | 18.79 | 27.96 |
| 12 | 12.750 | 323.9 | 0.180 | 4.57 | 24.34 | 36.22 |
| 14 | 14.000 | 355.6 | 0.188 | 4.78 | 27.97 | 41.62 |
| 16 | 16.000 | 406.4 | 0.188 | 4.78 | 32.02 | 47.65 |
| 18 | 18.000 | 457.0 | 0.188 | 4.78 | 36.05 | 53.65 |
| 20 | 20.000 | 508.0 | 0.218 | 5.54 | 46.42 | 69.09 |
| 22 | 22.000 | 559.0 | 0.218 | 5.54 | 51.14 | 76.10 |
| 24 | 24.000 | 610.0 | 0.250 | 6.35 | 63.93 | 95.13 |
| 30 | 30.000 | 762.0 | 0.312 | 7.92 | 99.60 | 148.22 |
Pressure Rating Of 316 SS schedule 80 pipes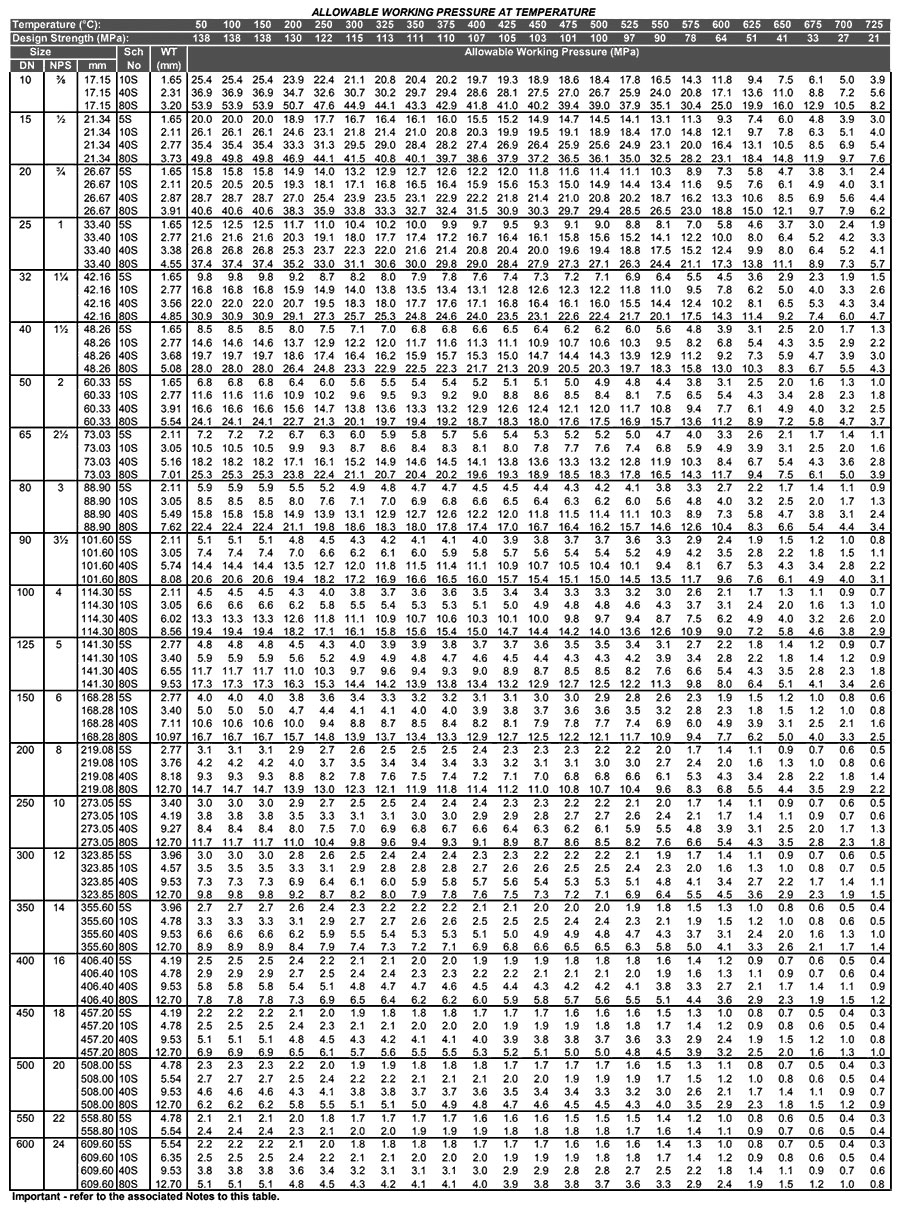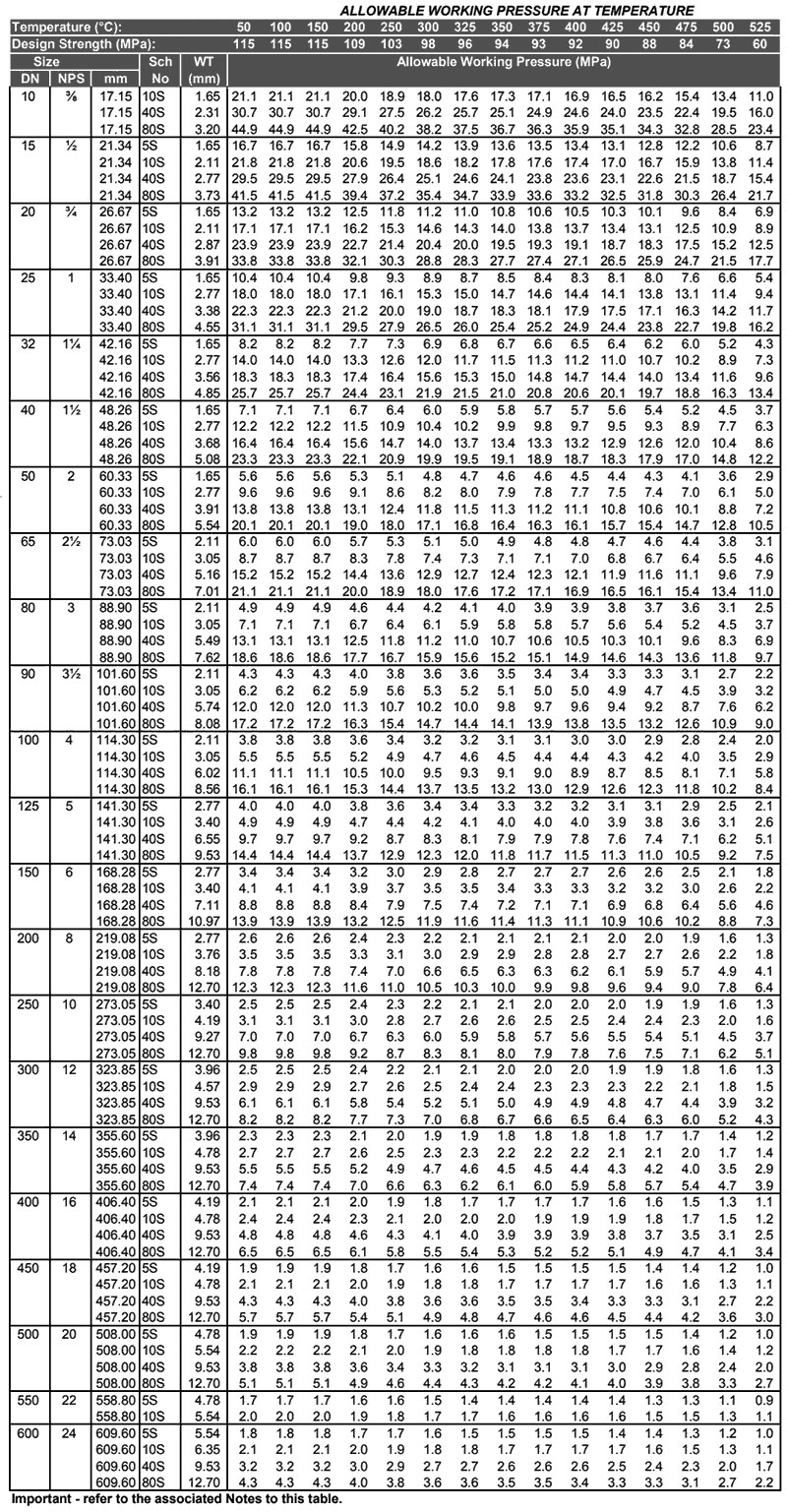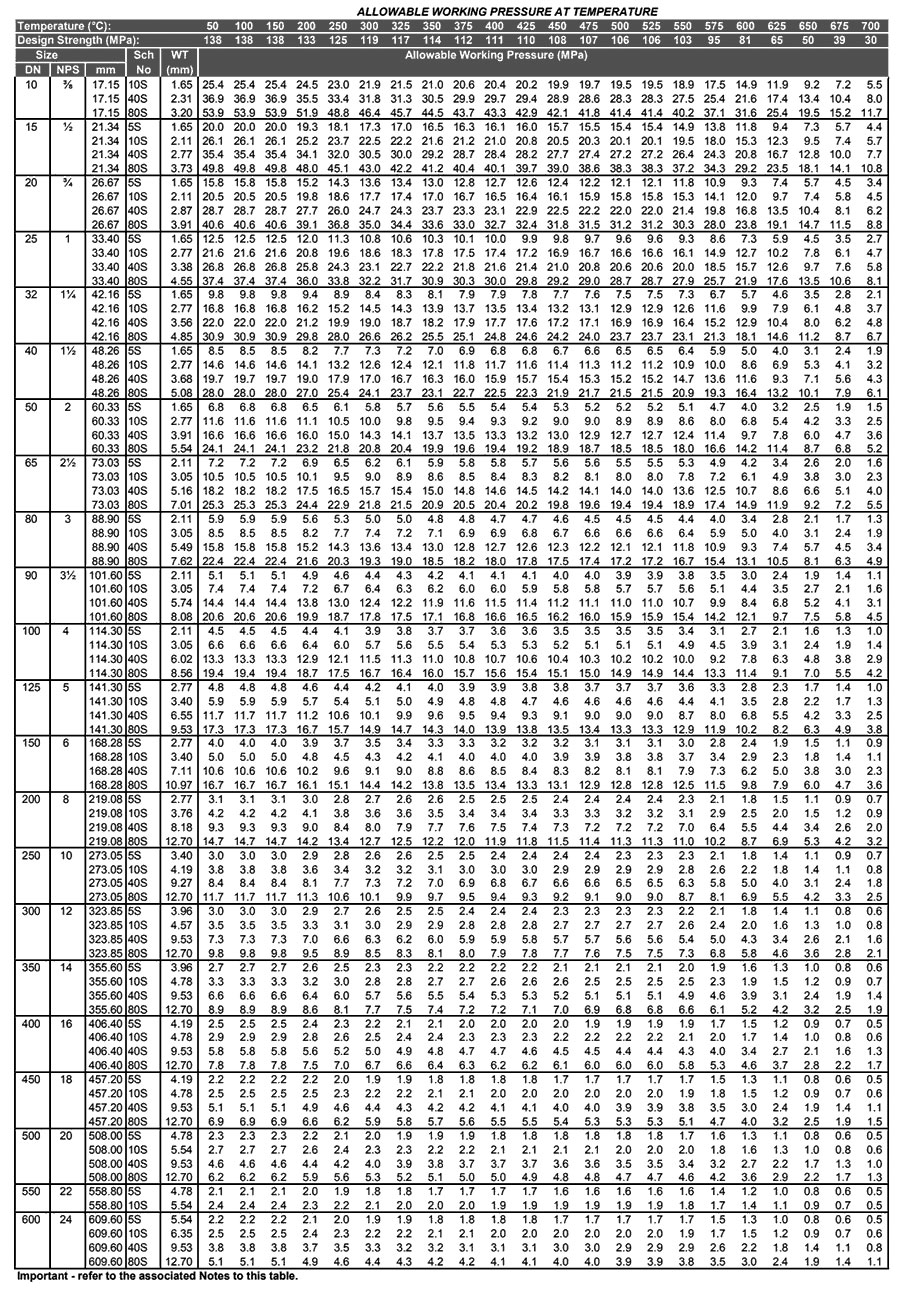 Industries We
Serve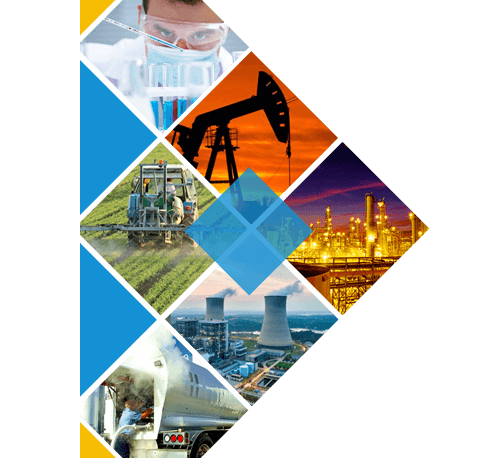 Chemical Research Industries
Petroleum and Gas Industries
Agriculture Engineering Industries
Mechanical Engineering Industries
Civil Engineering Industries